About Bommarito Honda
Welcome to Bommarito Honda, your St. Louis Honda Dealership. Here's a brief picture walkthrough of our facility. We offer many award-winning and state-of-the-art services that are exclusive to our dealership. At Bommarito Honda Superstore, we're dedicated to honest pricing and a world-class experience. Servicing your vehicle or shopping for a new one has never been easier!
Bommarito Honda
Bommarito Honda is one of the 21 dealerships in the Bommarito Automotive Group, Missouri's #1 Automotive Group. You can feel confident in knowing that the Bommarito Automotive Group has been in business for over 44 years now and is a trusted Automotive Group based in St. Louis, MO that is very involved in the St Louis community.
Bommarito Honda is the only St. Louis recipient of the Honda President's Award for 2014, 2015 and 2016 a Council of Excellence Award - American Honda Financial Corp.. We also have been awarded the 2013, 2014, 2015 and 2017 Missouri Honda Dealer of the Year by DealerRater.com (A consumer rating site that has customers evaluate and review automotive dealerships).
Most consumers are researching Car Dealer review sites and relying on those reviews to guide them on where to purchase their new car. We know that customers are very educated car buyers and are looking for a great car buying experience that is easy, straight forward, head-ache free, hassle-free, friendly and fun.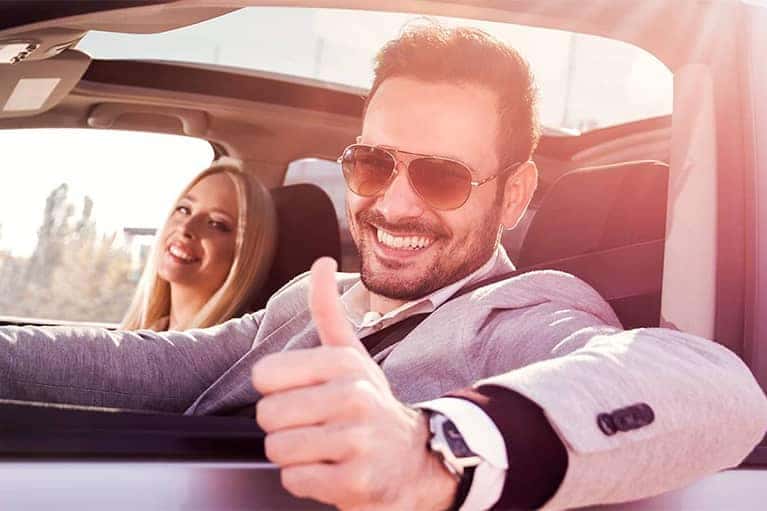 What Our Customers Are Saying
Look at what some of our customers are saying about their favorite St. Louis Honda Dealership or click the image below to see all of our online reviews.
"This was the best experience I have ever had buying a vehicle. My sales person was polite and courteous. He worked with me for my particular situation and told me honestly upfront what was possible and what was not possible. I would recommend this dealership"

"The guys at this dealership made buying my first car a GREAT experience! All of them were beyond helpful and went above and beyond in everything."

"Buying a car from Sue Doyle and Bommarito Honda was a great experience. Sue and everyone there were always friendly and very helpful through the whole process yet it never felt like talking with the typical sales person. They made the extra effort to make sure you are happy with the car before and after the sale. If you are looking for a good deal on a Honda with good service, see Sue Doyle at Bommarito Honda."
Indoor Delivery Center
This indoor, climate-controlled delivery bay can hold up to 3 vehicles and is the perfect solution to our unpredictable Midwest weather. No need to be stuck in the dark, rain, extreme cold or heat trying to look over and have the features of your new car explained.
At Bommarito Honda, we just make it easy by eliminating the weather so you can go at your pace to learn everything about your new car. There is a saying in St. Louis that if you do not like the weather, wait an hour and it will probably change.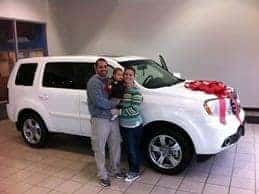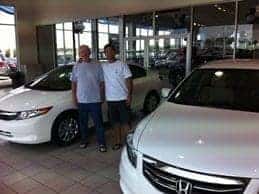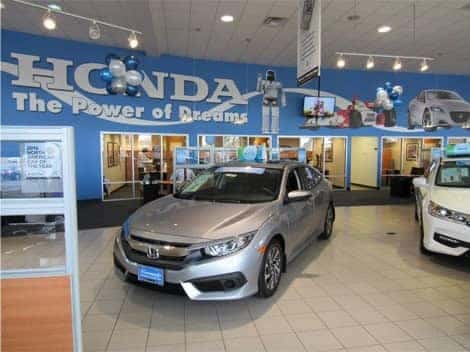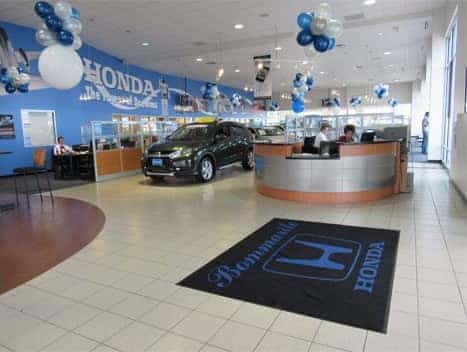 Award-Winning Showroom
Our state-of-the-art vehicle showroom is where the action happens! The flat-screen TVs are always on. Comfortable chairs, high top tables in our research area, to comfortable couches and chairs in our waiting area. We have complimentary bottles of water, Starbucks Coffee, Ice Cream treats, Fresh Fruit, Donuts and cookies to enjoy while you wait. Our finance offices are secure areas where you will be able to discuss your financing options in a private office.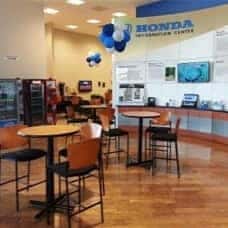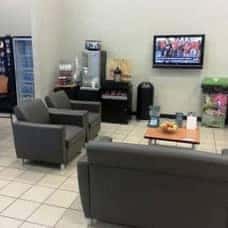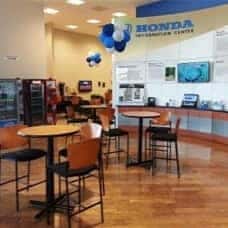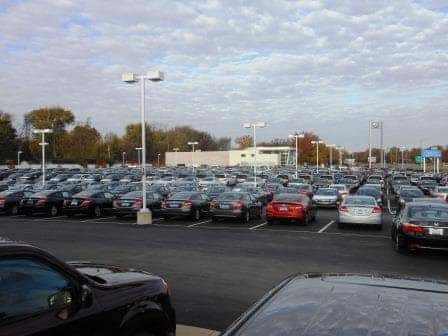 Honda Inventory in St. Louis
We regularly have 9 acres of Honda models to choose from with over 100 pre-owned vehicles and over 300 new Hondas to choose from. We specialize in honest pricing and our selection is unsurpassed by any dealer in our region.
Looking for a new Honda? We have a great selection of the latest Honda models for you to research first hand, test drive and take home the same day.
You can also look at our wonderful line up of Honda Certified and several used cars, trucks and vans. As one of the largest Honda dealers in the mid west, we are always receiving new trade in vehicles that you can choose from. All of our pre-owned vehicles go through our service dept and and pass the Missouri State Safety & Emission Inspection as well. Click here to see our current used car selection.
The Bommarito Advantage
Bommarito Honda out does other dealerships by offering you an advantage and reward for choosing Bommarito Honda. You may find the exact same new Honda model, the exact same options, the exact same color but the difference will be the way Bommarito does business and offers a Better Value. We make car buying fun and reward you for choosing us with our Bommarito Advantage that separates us from other dealers.
You get the Bommarito Advantage with every New Honda at No Additional Charge!
Two Years No Charge Maintenance
($225 value)
Complimentary Tank of Gas with each vehicle purchase
Complimentary Lifetime Car Washes
Huge Selection
9 Acres of Honda models. If we don't have the Honda you are looking for we will find it for you.
$500 Additional Trade In Value
Complimentary NitroFill for longer Tire Life!
Express Service
Bommarito Honda offers St. Louis Honda Owners Express Service for items such as Oil Changes, Tire Rotations, Battery Replacements, Brake Pads, Honda Maintenance A, Maintenance Minder B, Cabin Filter replacements and all of this can be done through our Bommarito Honda Express Service without an appointment Monday through Saturday.
Bommarito Collision Center
We know that accidents happen from time to time. Whether it is a fender bender, hail or even just a few dings that need repaired on your vehicle, bring your car to the experts that will fix your car right. Our Body Shop is a full-service Collision Center located in Hazelwood, MO and works with all insurance companies and with all makes and models of vehicles. All paint and workmanship performed on your vehicle is guaranteed for as long as you own your vehicle, that's The Bommarito Collision Center Guarantee. CLICK HERE to learn more. Our Goal is your 100% Satisfaction!
Honda Parts and Accessories
Visit Bommarito Honda for your Genuine Honda Parts and Accessories. We carry a variety of parts and Honda Accessories for your Honda. The Parts and Accessories counter is located by are service lounge and is open Monday through Saturday for your convenience. Our parts personnel will help you select the right part or accessory for your new Honda.
How To Get Here
Bommarito Honda is very easy to get to. We are located at Highway 270 and North Lindbergh just minutes from anywhere.
We are 5 minutes from the intersection of i270 and i70.
We are 15 minutes from the Illinois.
We are 15 minutes from Frontenac.
We are 10 Minutes from St Charles, MO.
We are 20 minutes from West County Mall.
We are 20 minutes from OFallon, MO.
We are 30 minutes from Chesterfield Mall.
We are only 30 minutes from South County.
We are only 75 minutes from Columbia, MO.
We are less than 4 hours from Kansas City.
We are less than 5 hours from Chicago.
Get Directions
We are located at: 330 Brookes Dr Hazelwood, MO 63042