Bommarito Honda Reviews in Hazelwood, MO
When you're thinking about upgrading to your next vehicle or want a reliable place for auto service and repairs, you'll be looking for a nearby car dealership with good reviews. That's where Bommarito Honda comes in! Take a look at the positive Bommarito Honda reviews to see what others have said about their time at our dealership. We're always looking for ways we can improve and better serve our customers, and car dealer reviews are one way to see what we're doing right and understand where we can improve. Check out our reviews online and schedule a test-drive at our Honda dealership in Hazelwood to get behind the wheel of one of our new or used vehicles for yourself!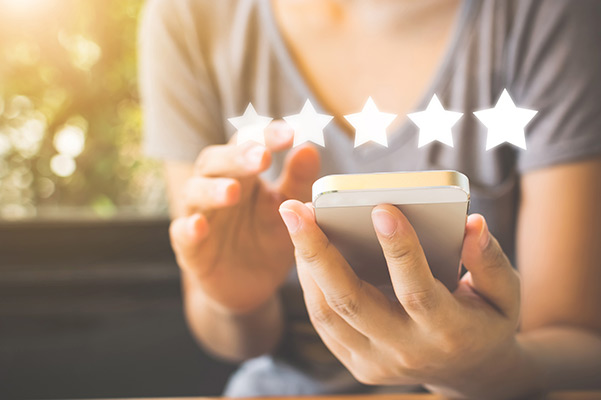 Leave a Bommarito Honda Review
Want to let others know about your experience at our nearby Honda dealer? Don't hesitate to leave a Bommarito Honda review for others to read! We'll be happy to receive your feedback and see what we can do to better serve customers moving forward. Whether you're visiting for a Honda oil change, tire rotation or wish to compare new Honda lease specials, you'll be pleased with the experience you receive at our Missouri Honda dealer.
Mr.Randy Borth my sales consultant at Honda Bommarito provided me with excellent service in helping me find a new car.
Today I bought a Honda CRV and the sales consultant, Mr. Randy Borth, scored five stars for the whole team. He was kind, professional, honest, and knowledgable. The folks at he finance department need to work on their patience thought. For a purchase of this price, you should expect several inquiries which may as well lead to re-doing the whole process. As a professional, you need to accommodate those requests while staying calm.
Had a good experience, got what I expected on my trade in so that was a 2 thumbs up! Mike R. was very helpful and didn't over promise anything. My car actually came in early so that was a plus.
Excellent sales experience with Don Scheffler. Very knowledgeable. Went home with a beautiful 2019 Honda Certified CR-V Touring. This is my 2nd Honda. Will never buy any other. Honda owner for life!!!
Having just completed 2200 miles from San Diego to Centralia IL, I finally decided that Sunday night that I wanted a truck. I'd been thinking about it for months, but the trip out solidified my need. Did a quick online search Sunday night and found a nicely priced & loaded certified-used Honda Ridgeline at Bommarito Honda. When I walked in Monday afternoon, I was greeted by John Carrol who showed me the truck and sent me on the test drive. Fell in love with it and John very efficiently got the paperwork rolling! Once transferred to Angie (the Finance gal), ...
Thank you for everything Nick, Angie and Jamie.
My wife and I made an appointment with Jimmy to look at new vehicles and we're glad we did. He was attentive to our needs. After test driving several cars we found the perfect car for us - a Honda Accord. It has all the features we were looking for: a nice style, a smooth ride, and a fair price. Thank you Jimmy! You are a pleasure to work with!
Fantastic experience! Michael B was so friendly and knowledgeable. Traded in my old vehicle and bought a pre-owned car. Couldn't be happier!
Eddie Jones from Bommarito Ford was very helpful in assisting me when I came into the dealership. He made my time time there enjoyable looking at cars.
Wonderful experience with everyone I worked with. Robbie - the sales manager at Bommarito Honda - was incredibly helpful, patient, and kind. 5 stars all around! Highly recommend!
Really wonderful people work here, they make the car-buying process easy and painless. If there are any issues, they are quick to address and fix them and are very flexible in working with the customer. I recommend this place to all my friends.
Great customer service and amazing staff! Randy B. and Angie M. were so helpful! 😌
Just throwing out some Kudos to Dave Keyser for getting me in my 1st Ford. And a Mustang at that! Check out Bommarito and check out Dave while your there!
Keith and Kevin were an absolute pleasure to work with from start to finish. They were always easy to get in touch with, and made my purchasing experience clean and simple. I am so happy with my 2023 Honda Civic EX, thank you both for your help. I would highly recommend Bommarito Honda in Hazelwood to anyone!
I give my girl Vicky Wallace 5 stars.
Eddie Jones was first class all the way and made our buying of our 2022 Ford Explorer ST very pleasant. Would definately buy from him again and strongly recommend him to friends and family!
Very professional and gave us all the help we needed
Come see Eddie if your looking for a new vehicle
Perfect quick work and cheap money wise. THANK YOU
Great experience. Robbie McDonnell was easy to work with.
Randy was Excellent not only was he so patient with me and my husband but also very Courteous and genuine. From the start of my morning to staying over time he was present and helpful we ended up leaving with a car that will work for our family and we are so thankful! We highly recommend his services!
Outstanding service as always for our Diesel F250! Roy Bode gave great advice on needed service & explained the work performed.
Repeat customer of Bob Spicers. Great guy to work with, easy going, and straight to the point. We made our deal over the phone and were in and out in no time. Great experience and great salesman to work this. Thanks Bommarito and Bob Spicer. Highly recommend these guys! We will be back again!
My wife and I and had a great appearance, Phil Sheward was our salesman and was Awesome.
Experience was done in Excellence. Extremely professional, polite and excellent customer service from Don Scheffler and Mike Minner.
My saleswoman was Vicky Woodson Wallace absolutely love her!
Great experience. Oil change and tire rotation was done in 35 mins.
Bommarito Honda has my business from now on! My sales person Nicholas Johnston was amazing! Wonderful people skills and made me feel at ease about the whole process while he worked hard to get me the best deal that worked for me! Jamie Novara in finance also was nothing short of amazing as well, working his own magic to fit my needs! 10/10 out recommend Nick and this dealership! Wonderful team! Thanks guys! I love my new H-RV!!!!!
Hey the guy Eddie Jones was a great salesman he helped me find exactly what I wanted very nice guy I would recommend him to anyone else he had very satisfactory customer service and great knowledge of cars great personality THANKS EDDIE JONES !!!!!!!
We had Doug Clever for our salesman. He was great to deal with and the whole experience at the dealership was good. I would highly recommend them to anyone. Thanks Doug.
Excellent service. Professional and friendly staff.
Always friendly. Clean prompt service.
Its a smooth transaction buying a car from Bommarito Honda. From the test drive to delivery our salesman Joe Russo kept us informed of the progress of our ordered car. It is a pleasure doing business with Bommarito Honda and all of their staff. No other dealership compares with them in the excellent way they treat customers. Keep up the good work! Oh, we love our new Honda CR-V!
My fiancé and I went to Bommarito Honda and purchased a 2021 CR-V. John Carroll and Angie Murdaugh were awesome to work with! John helped us find another great car when the one we wanted originally was taken by another salesman from out under us… we ended up with a better deal thankfully! And we cannot say enough good things about Angie, what a GODSEND! She was the finance manager we wanted to work with from the moment we walked in. Having a black woman in a position like that made us feel so much more comfortable to deal with vs. ...
our experience was great, Phil Sheward was out salesman and he was Awesome, we will definitely be back..
Joe is really great! He takes care of everything! Excellent!
they were courteous, friendly, and clean. They got my car in in timely manner.
Doug Clever, not only got us a good deal, but was easy to work with, answered my calls, and knowledgeable. We made a deal over the phone and were in and out in no time. We will be back! Thanks Doug, for an awesome buying experience!
Joe did a fantastic job of working around our way of purchasing. We asked to get the financing in order up-front before driving out there. He did that!!!! 6 other places wouldnt gives answers over the phone, so didnt get our business. Thanks Joe and team for making this the easiest purchase ever.
Cameron Martin was very helpful since the moment we walked in, he helped us throughout the whole process and was very nice and professional. He made this easy and comfortable.
I met randy borth in 1996 buying my very 1st Honda now I have purchased my 4th Honda from him . In a world that has become so distrustful it is a breath of fresh air to find someone you feel you can trust and be treated Ike you matter. It's scary to spend thousands of dollars but knowing you aren't being taken advantage of because the salesman you are working with has integrity helps alleviate that fear. Thank you randy borth for being true to me and yourself.
Robbie McDonnell helped us navigate and made our car buying experience peaceful.
I had a great experience thanks to Margo who helped rectify a situation for me. She went above and beyond, it's people like her that keep you coming back, thanks again!
Finding the right car at the right price was a challenge that Kevin Hall came through for us once again. He nailed it! Kevin listened to our requests and found the perfect car for our needs. He even used his connections to get us an extra $500 on our trade-in. Kevin followed up after the sale to make sure we were happy with the deal. From sales to the incredible service department, It is no accident we have purchased 6 cars from Kevin and Bommarito. I've called Kevin, friend for more than 35 years. Kevin, you don't just sell cars, you ...
Dave and Nick took good care of me and I lefts with the perfect purchase.
A couple months ago I was in a car accident, a drunk driver rear ended me at a stop light, which ultimately lead to my Honda Civic being completely totaled out so of course I needed to buy a new car! I've never purchased a car from an actual dealership before, so I wasn't quite sure what the experience was going to be like. I'm incredibly thankful that I chose Bommarito Honda, especially because Mike Barnett was sooo helpful and kind during the entire process!! This entire situation (dealing with the aftermath of my accident) has been ...
Great transaction. Randy and Michael were great to work with. No pressure, comfortable, pleasant buying experience. I would recommend Bommarito Automotive Group for all your vehicle purchase needs.
Worked with Randy Borth to find a new CRV, and during a busy day, he was able to work with us very well through the purchasing process. Would highly recommend him and Bommarito for your new car!
Eddie Jones has been the best consultant I've ever had experience with when it comes to find a vehicle that fits my needs! 5 stars!!
Everything was great, Phil was our salesman and we will definitely be back.
The customer service and service on my SUV are excellent from start to finish.
We have worked with Kevin Hall for over 13 years and his service and most importantly his friendship is second to no one. We cannot express our gratitude on how he treats us as family in a line of work that most people see as moving cars! Our appointment began at 10am and ended around 5pm. Not sure if it was his attention to details when it came to fitting us into a vehicle that makes us happy or the time we spent at lunch on his dime. I do know I would recommend Kevin Hall and his associates to anyone ...
I would like to thank Jimmy Coleman for all his help. he answered all my questions and helped get me and my family back on the road in our new car.
Cameron was wonderful and very easy to work with. The whole experience was smooth and I never felt pressured into the deal. The finance manager Mike explained everything clearly and was great to work with. Awesome duo, and would recommend Cameron to the next buyer!
Caleb Dean is a top notch salesman. Always honest and trustworthy.
Joe was ABSOLUTELY AMAZING!! He helped me feel absolutely comfortable with the whole process, I walked in a complete strange and felt like I had know him for years, and could completely trust him!
I had a great experience everyone was extremely helpful and Mike Barnett made the process easy and helped me walk away with the perfect car for me!
Joe Russo was a great help with finding me the best car for my situation. He was extremely friendly, helpful, and all around provided me with a pleasant experience. I would personally recommend going to him for any of your Honda needs. 🙂
KaRon was such a pleasure! He gave me all the information I needed to purchase a new vehicle and went above and beyond to make sure I was taken care of! Strongly recommend!
Our salesman, Steve Nodiff, was extremely nice and easy to work with.
Had a great time looking over the inventory at Bommarito with KaRon
I met a very nice young man. He helped me decide which Honda would best fit my needs. He listened, he let me test drive several cars. Joe Russo was very helpful. He said if I thought of any questions to call him. I decided on the car I wanted but it had to be put on an order list. He emailed me when the car was built and again when it arrived. My husband and I went to take delivery and Joe was there to walk us through all the bells & whistles. And again he said if either ...
Wonderful customer service from Ka'Ron
Quick and complete delivery. Trusted partner and Mike provides awesome service
Jimmy Coleman provided customer service and showed good knowledge of Honda and its products! Not to mention very entertaining!
Jimmy is amazing! He's very funny and gets the job done. Best salesmen!
Mike Barnett was helpful and deal went pretty smoothly.
See Mike Barnett for your car needs. Super nice guy.
We really enjoyed working with Joe Russo. He kept us updated as our selection was being built. He took the time to explain the features on our new CRV although it was a busy day. Mike was very thorough in explaining the service plan. They both explained many options and let the customer decide what they wanted.
Highly recommend Bommarito Ford. Thank you Steve Nodiff!
Excellent experience from start to finish. Joe actually listened to what I was looking for and didn't try to push a bunch of extras on me I didn't want. Highly recommend to anyone looking for a new Honda.
Jimmy was great, worked his tail off, and was still professional and enjoyable to work with. 10 out of 10 would buy from him again!
While searching for a new or used car, one of the best assets at Bommarito Honda was our salesman Joe Russo. He is a man of integrity, very thorough, a great listener, and respects our budget! The process couldn't have been better!
I worked with Caleb on my first Honda vehicle purchase and he was great to work with. He answered all my questions fast and was very informative. I would recommend asking for him when wanting to buy a Honda from Bommarito
It was a really great experience working with Ka'Ron Adams to purchase my new vehicle. He was patient and let us explore all our options and never pressured us.
Don Scheffler was amazing. He took time to explain the process, showed more information about the vehicle and answered all my questions He was great with his customer service !
Was great working with Mike Rosen to get my new civic. The Finance department was also a good experience and ended up with a great rate in a difficult market. The service department is awesome here too. Abby and team are always helpful!
Our family has purchased 2 cars from Mike. It was a great experience. Very helpful, no sales pressure whatsoever. We highly recommend seeing Mike.
Great experience! Mike Rosen was awesome. He helped make the car buying process smooth from reserving the car I wanted to being the man on the spot when I hit a snag with my financing. Couldn't recommend them enough!
Great experience. We're repeat customers of Bob Spicer, who's actually made purchasing a new vehicle an enjoyable experience!
Bommarito Ford service department got my truck in for repairs right in the middle of the holidays quicker than I thought possible. My service manager Scott treated me great and kept me up to date the entire time. I give them a ten out of ten for this one.
Abby and the crew is service are top notch. They keep you updated on times and let you know if there are issues that need to be addressed.
Quick processing. Abbey W is an amazing service consultant
Everyone here is always so friendly and the service is outstanding
Had a wonderful experience with Bob Spicer and the entire team at Bommarito Ford! Such an easy process! If you are in the market for a new Ford, come see Bob!
I recommend Bommarito Ford because of Eddie Jones. He has a wealth of knowledge when it comes to the cars and what they have in their inventory.
Came to Bommarito Ford and worked with Eddie Jones and he was very helpful and knowledgeable about vehicles in question.
Even though I was late for an appointment, they still took care of my issue quickly and safely. Friendly customer service.
Caleb did a great job keeping me informed of when my vehicle would arrive.
---